This feature enables saving of the frequently used search conditions.
A user can save their preferred search conditions which they can also share and become accessible by other users.
How to Save a Search Condition
Open the search screen and input the search conditions, then click 「+New Saved Search」.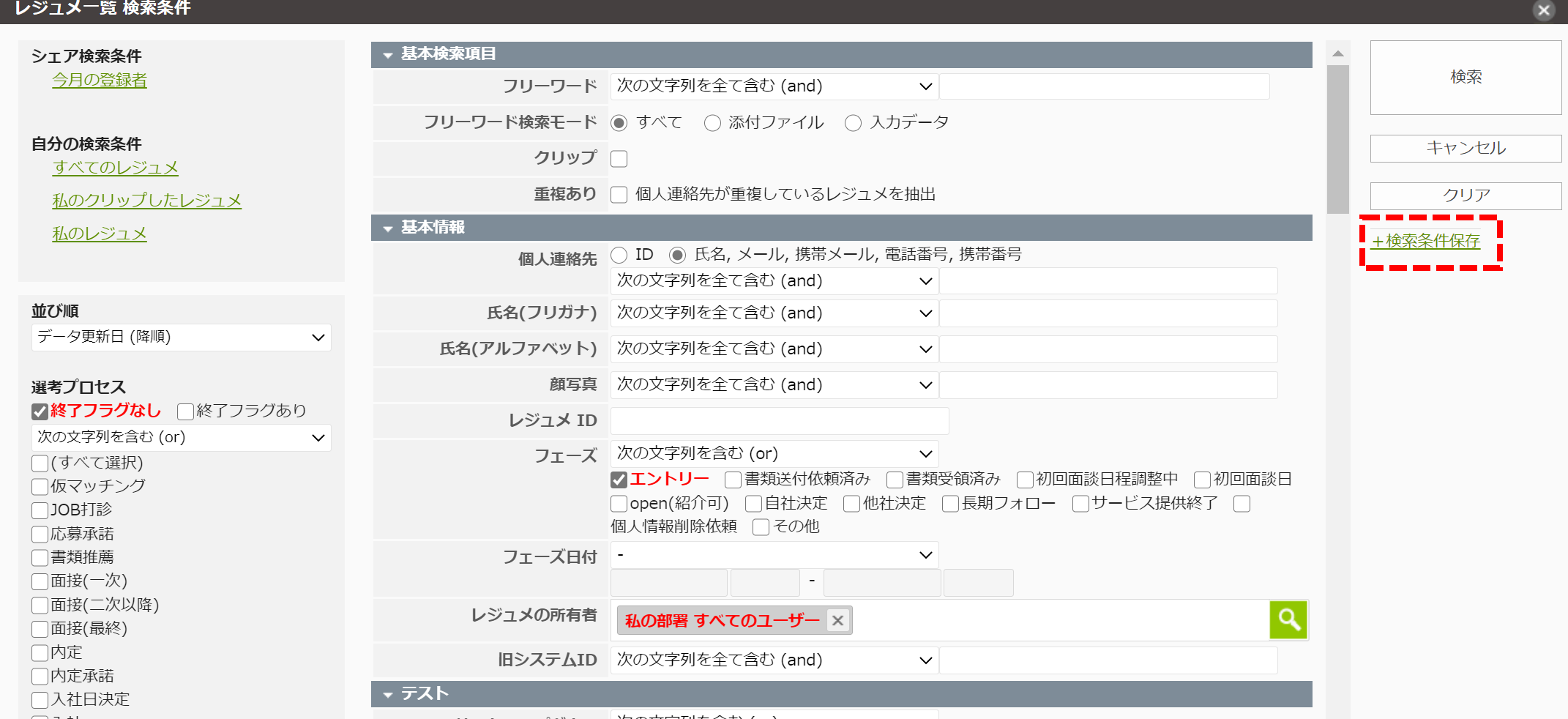 Another way is to click「+Add New Saved Search」 on the list view screen showing your search results.
■New List View Screen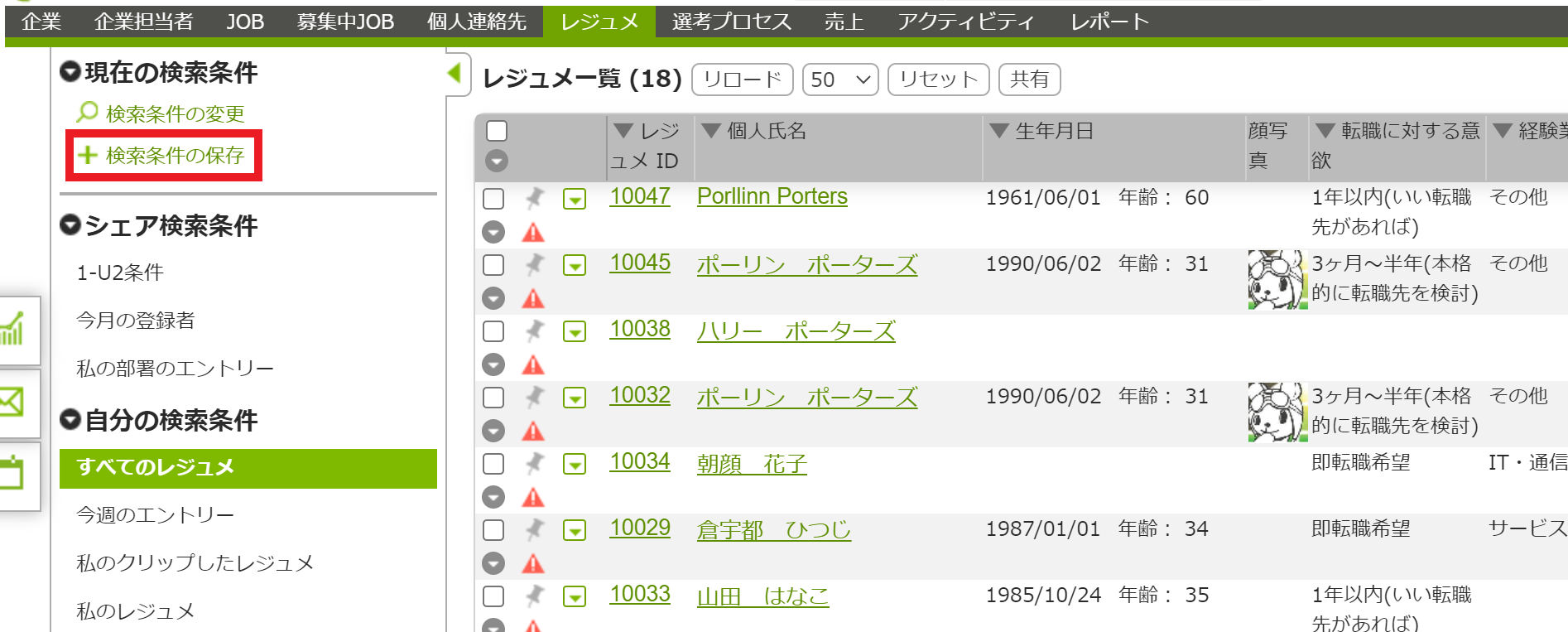 ■Old List View Screen

Enter the name of the search condition.
If you check "Share", not only you but also other users can use this condition.
If you want to share only to specific users or specific departments, select from "Share Department/User".
※If you do not select a department or user, the search will be shared to all users.
Click Save.
The saved search conditions are displayed to the left side. Those shared by you together with those shared by other users are displayed under 「Shared Search Condition」.
※The order of appearance is alphabetical based on the name of the search condition. If you wish to reorganize the order of appearance, use numbers or letters of the alphabet at the beginning of the name.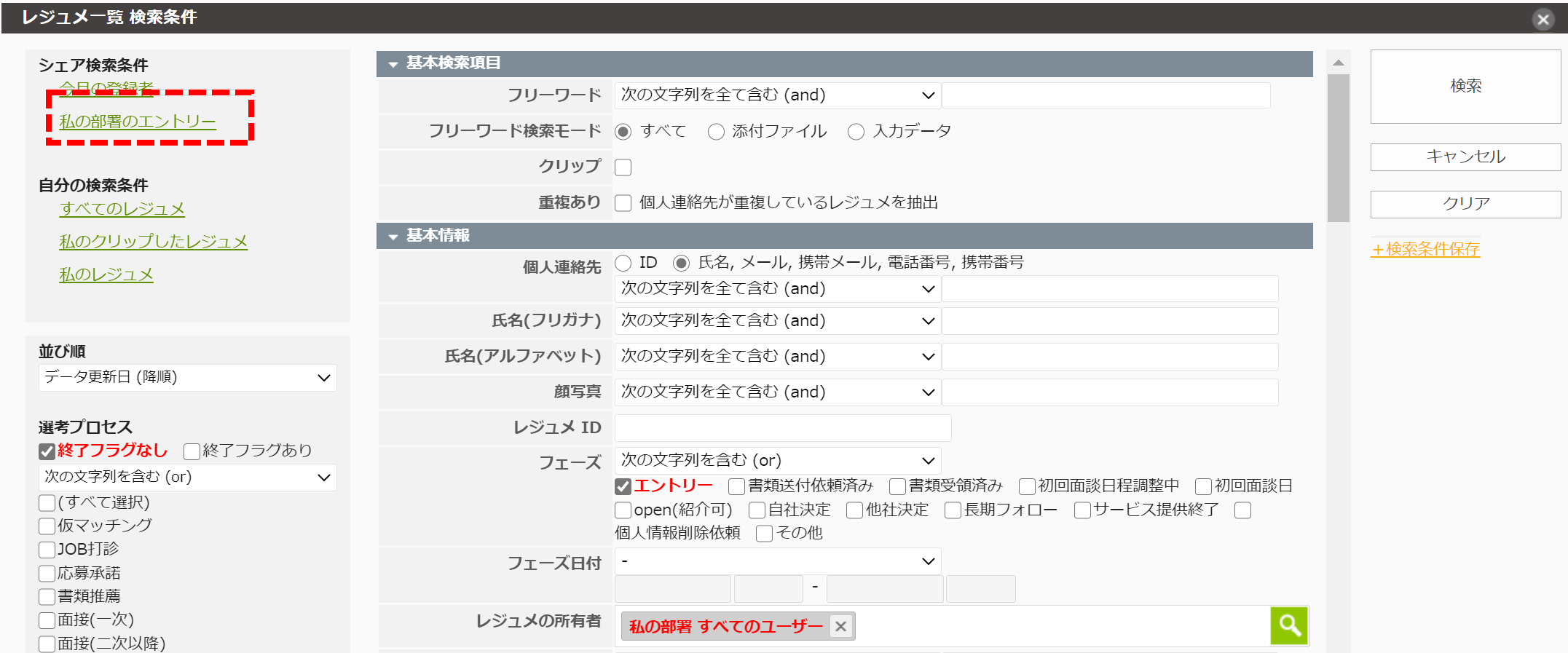 When you place the mouse on the name of a search condition, a pencil icon is displayed. This pencil icon can be used to edit (change name or switch to share on/off) and delete.
※Be careful not to edit or delete search conditions shared by other users.

How to use
The saved search condition can be accessed from not only the search screen but also from the global menu, Search condition side bar (available only on the new list view) and from the top screen (Job/Candidate pages only)


① Global Menu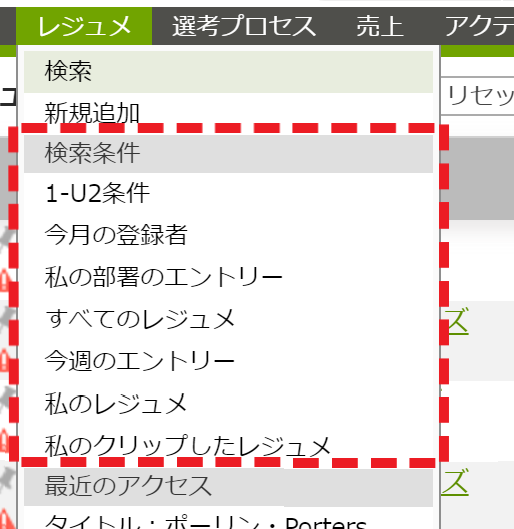 A maximum on 20 Saved search conditions are displayed.
The shared ones are displayed at the top and the ones not shared are displayed right below that in alphabetical order.
② Search Condition Sidebar (New List View)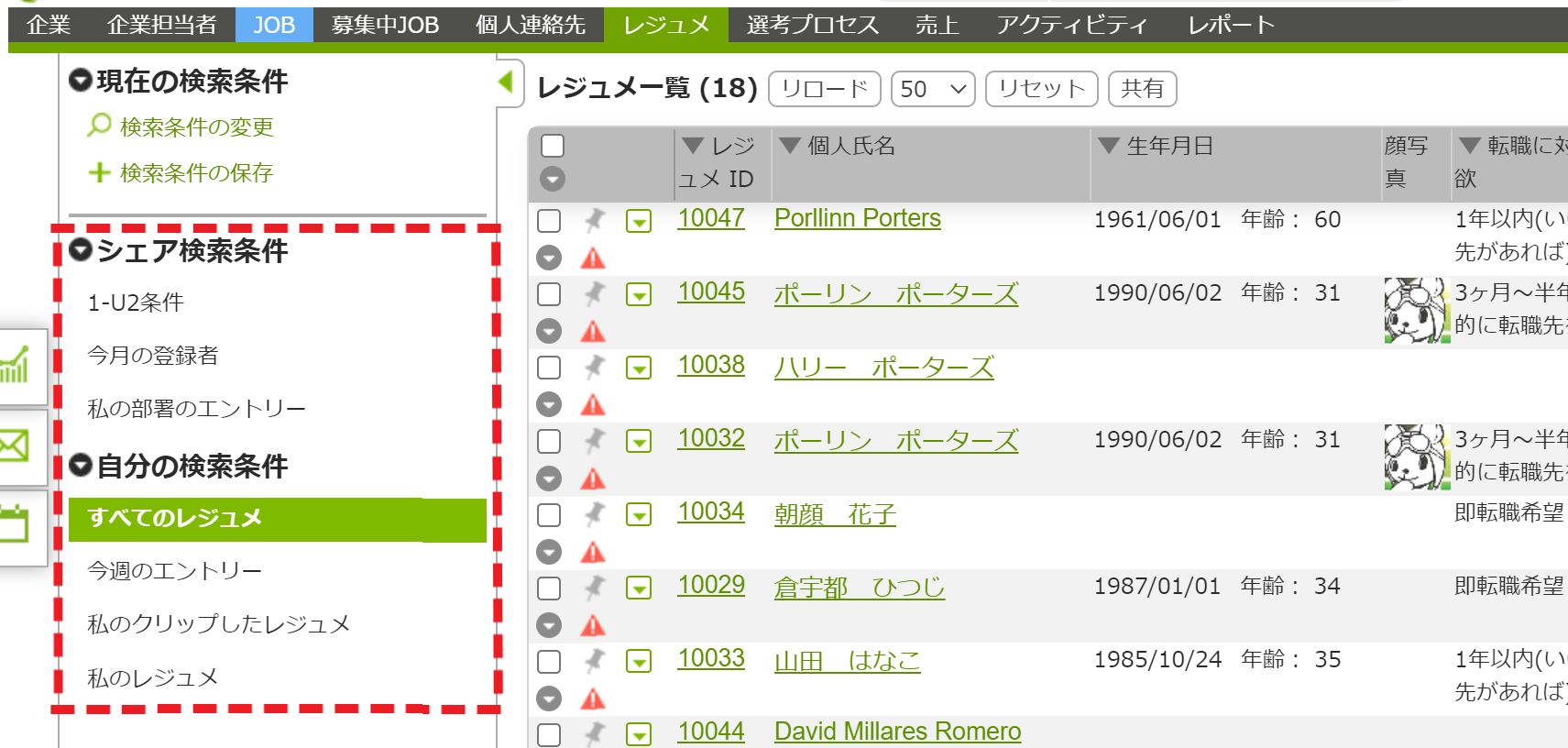 ③ TOP Screen

Only JOBs and Candidate data can be accessed from the top screen and a maximum of 8 saved search conditions can be displayed. First the shared search conditions are displayed followed by the unshared search conditions created by the user which are displayed alphabetically.
※For the newly added users as of 2021/4/27, the default display of the search conditions is as follows:
JOB
・All JOBs
・My JOBs
・My pinned JOBs
・My department's JOBs
Candidate
・All candidates
・My pinned candidates
・My candidates
・My department's candidates
Other pages excluding JOB・CANDIDATE pages
・All XXX
・My XXX
・My department's XXX
※XXX is the resource name
※In the case of Process data, the search results exclude those with an end flag
If you wish to use the previously existing search conditions, kindly make the settings by yourself.
※For adding new search condition, please refer to the explanation 「How to Add Search Condition」 as shown above.
Details for each of the preset search conditions are indicated below.
Search Condition name (JOB)

Search Field

Search Conditions

My JOBs -without progress

Process

Does not contain (NOT)

Select all the options

JOB owner

Logged in user

My JOBs - Document Screening

Process

Contains Any (OR)

Document Screening

JOB Owner

Logged in user

My JOBs - with progress

Process

Contains Any (OR)

Shortlist, Job Introduction, Document Screening, 1st Interview, 2nd Interview, Offer

JOB Owner

Logged in user

Newly added JOBs (1 week)

Date created

Past 7 days

Search Condition name

(Candidate)

Search Field

Search Conditions

New Registrations Before Contact

Phase

Contains Any (OR)

Entry

My Candidates-Without progress

Process

Does not contain (NOT)

Select all the options

Candidate Owner

Logged in user

Candidates-JOB introduction stage

Process

Contains Any (OR)

JOB Introduction

Candidate Owner

Logged in user

My Candidates-with progress

Process

Contains Any (OR)

Shortlist, Job Introduction, Document Screening, 1st Interview, 2nd Interview, Offer

Candidate Owner

Logged in user

My Candidates- Final Interview stage

Process

Contains Any (OR)

Final Interview

Candidate Owner

Logged in user

Newly Registered Candidates (1 week)

Date created

Past 7days

All Candidates-No progress

Process

Does not contain (NOT)

Select all the options