Overview
With "Auto-matching", matching results can be obtained instantly by using the search criteria that have been set in advance
Search criteria that link Job items to Resume items can be set and multiple search criteria can be set according to the use case.
The set search criteria are reflected on all user accounts.
Procedure for Starting Operations
Open Apps List from the Apps icon.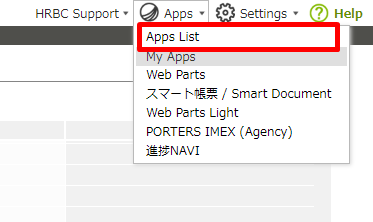 Click 'Go to Subscribe screen'.
The approval screen for auto-matching to access the data will be displayed. Be sure to confirm the company ID check the box and click the "Approve" button.
※Auto-Matching is a free application。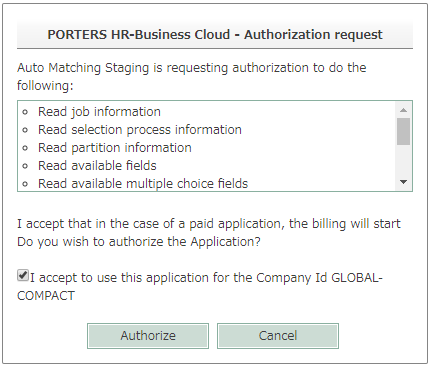 The Auto-Matching page opens.
※ DO NOT delete the「Auto-Matching」settings!!!

Settings
1. Registering Match Criteria
「Resume→Job」:This screen is used to set criteria for searching for jobs from a resume.
「Job→Resume」:This screen is used to set criteria for searching for resumes from a job.
This is an example to set criteria for searching jobs from a resume.
Click「+Register matching criteria」.
(You can also click 「Edit」Auto Matching)

Enter the matching criteria title.

It is possible to set the Job match criteria regardless of the contents of the resumes.

For example, a criteria such as 『Jobs whose phase became open within the past 7 days』can be set as follows:
Click 「Master setting」next to Phase.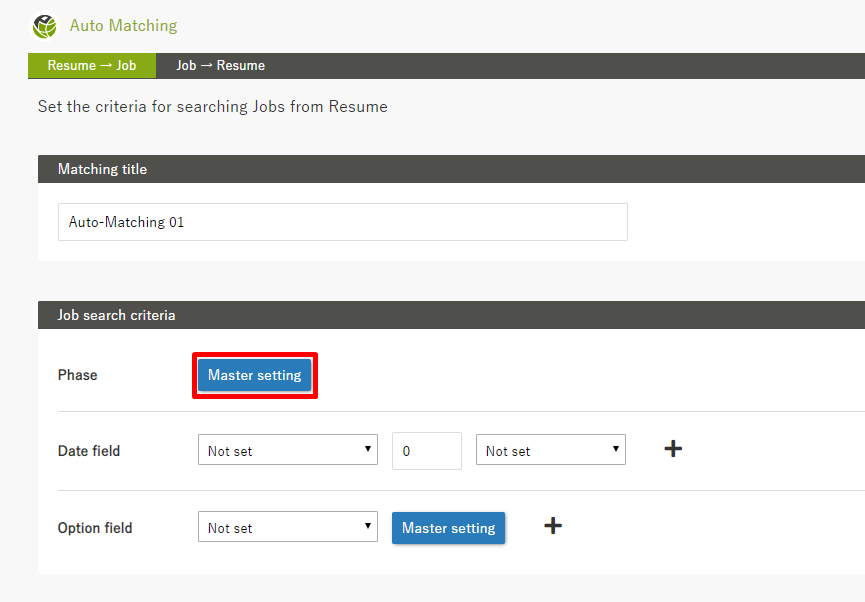 Set 「open」to「Include」 and「Up to7 days before today」.
Set other phases to「Exclude」and click the confirm button.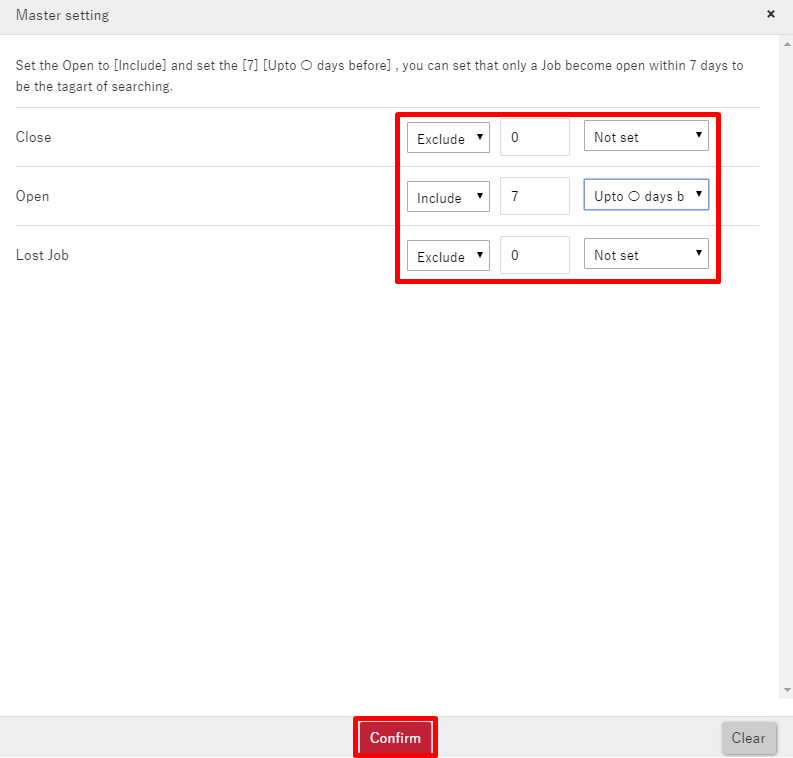 ※ In addition to the phase, date fields and option fields can also be specified as part of the criteria.
※ Client info, HR info and such details of higher hierarchy than Job can also be selected.
※ The + button can be used to add other fields of the same field type.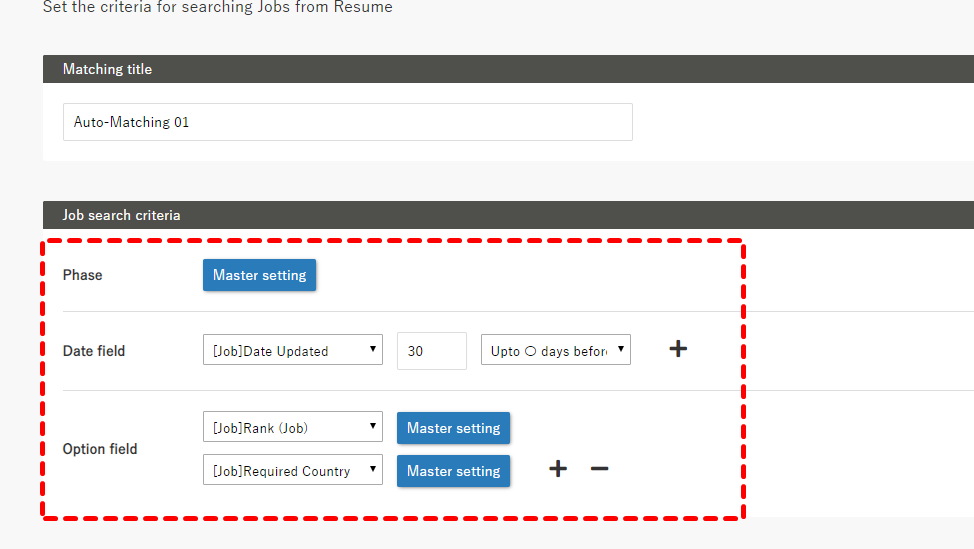 In Resume → Job match criteria, field-to-field conditions such as『Search this field in job with this field in resume』can be set.
※ The only fields that can be specified in the criteria are "age", "salary", and "option fields".
※ Fields from higher hierarchical levels can be selected.
※ In the case of option fields, also perform the corresponding mapping in "Master Mapping".
※ The salary unit can be switched by the button 「yen/10,000 yen」 as necessary.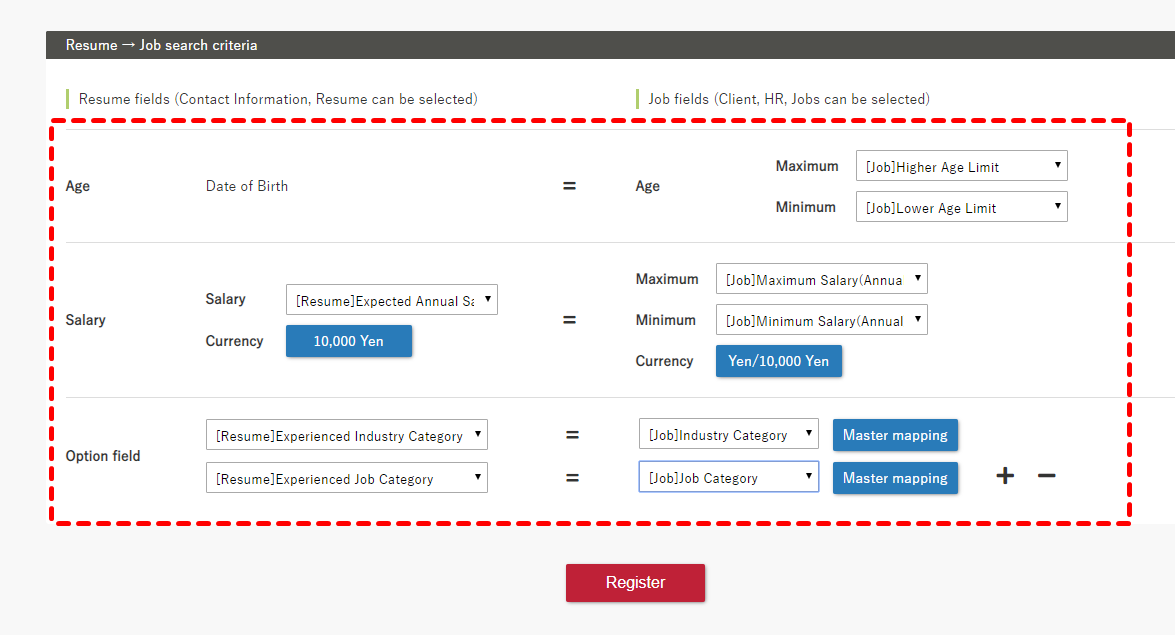 Once the criteria are set, click "Register" or "Update"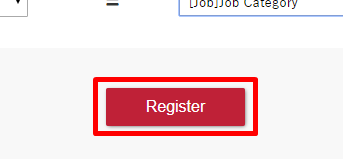 ↓

↓

2. Creating the Action menu
Create an action menu so that the registered criteria can be used on HRBC screen.
Copy URL and go to setting.

The action menu customization page opens.
This was an example of resume job match criteria therefore select "Resume"> Action Menu" and click the"New" button.
※Auto-Matching cannot be created in Bulk Action.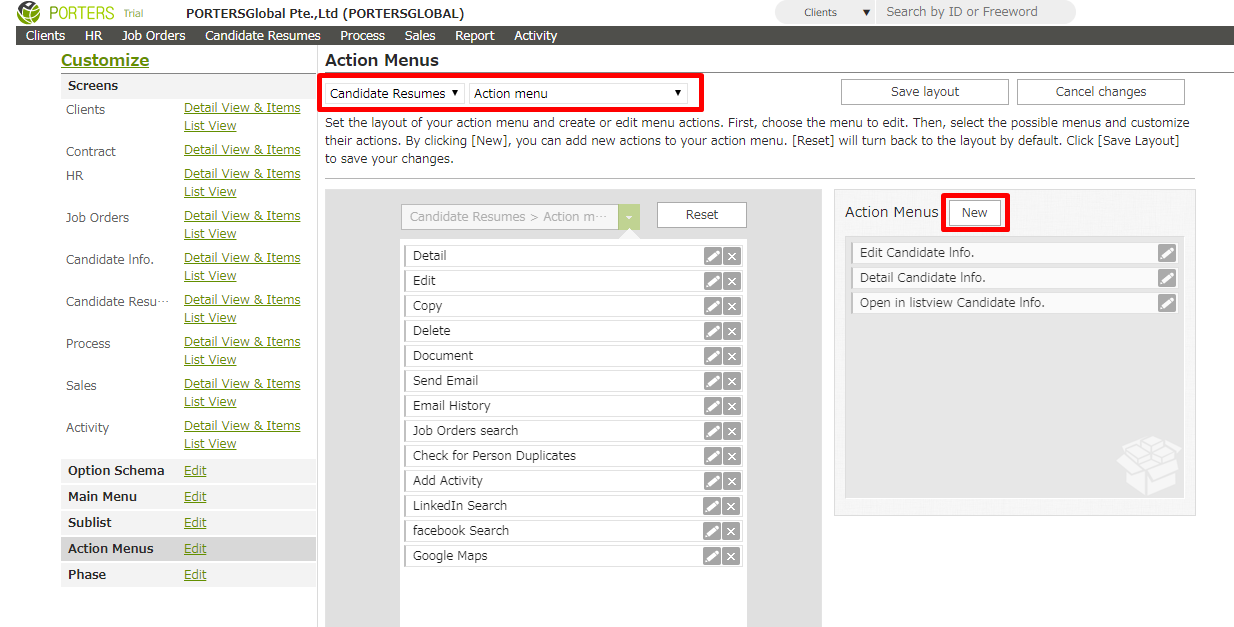 Paste the copied URL into "URL", enter the English / Japanese menu name, and save.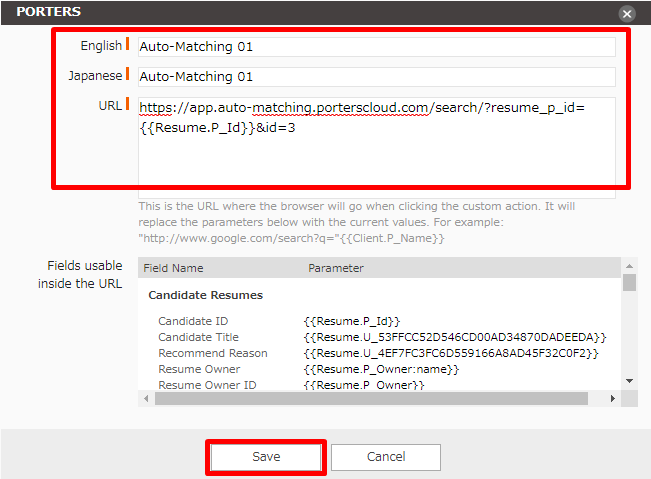 Drag and drop the created action menu from right to left, and click "Save Layout".