HR- Business Cloud ( termed as HRBC) Version 5.2.0 will have the following changes.

※This Article was Translated Automatically.
【Date and Time】
September 7th, 2021(Tue.)06:00~09:00
※24 hour clock system
※The maintenance time may be slightly off
※Services will be available as usual during the maintenance hours
【New Feature】
Sales can be displayed in Recruiter's sublist
In the dispatch workflow, "Sublist Sales" can now be set to be displayed in the Recruiter Detail View.
You can check past and scheduled sales by Recruiter units.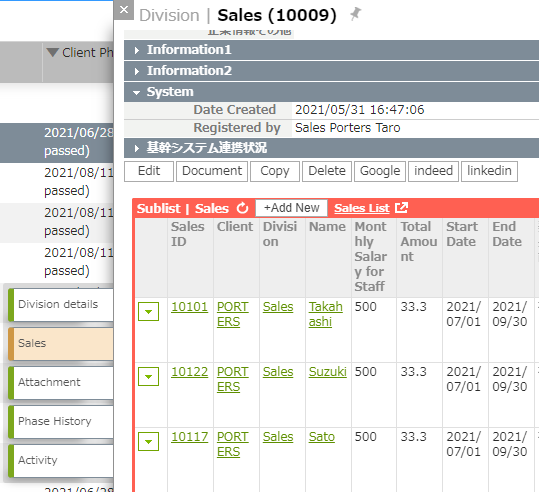 【Feature Updates】
The design of Sort / Filter has been changed so that more information can be displayed.
Sort / Filter now displays a note saying "It is applied to the data displayed in the list.
Changed the color of Pickup Color Settings.
Changed the Search Condition Sidebar so that it can display more information.
In the Search Condition Sidebar, the search condition name is now abbreviated with "..." when it contains too many characters.
【Bug Fixes】
Fixed a bug that when searching Reference item of Date item and Date Time item, it was not displayed correctly in the Search Condition Sidebar.
Fixed a bug that an error was displayed and could not be edited when editing item on the List View for "Phase" for which there was no value.
Fixed a bug that when performing a bulk action with ResourceID included in the URL, it could not be executed if "

Selected Items

" was selected.
Fixed a bug in the Filter function that error messages were not displayed when entering more than the maximum number of characters that can be entered in the text filtering item.
Fixed a bug in which the "Resource ID" was displayed with a different ID when using the Action Menu [Add Activity] in the Sublist.