PORTERS Version 7.0.0 will have the following changes.
* "HRBC" has been renamed "PORTERS" since April 1st, 2022.
【Date and Time】
August 23th, 2022(Tue.)06:00~09:00
* 24 hour clock system
* The maintenance time may be slightly off
* Services will be available as usual during the maintenance hours
【New Features】
1 Commute time matching is Released!
The nearest station and location information is automatically registered based on the address in the JOB and Resume.
   This is a paid service that performs Commute time matching based on that registered information.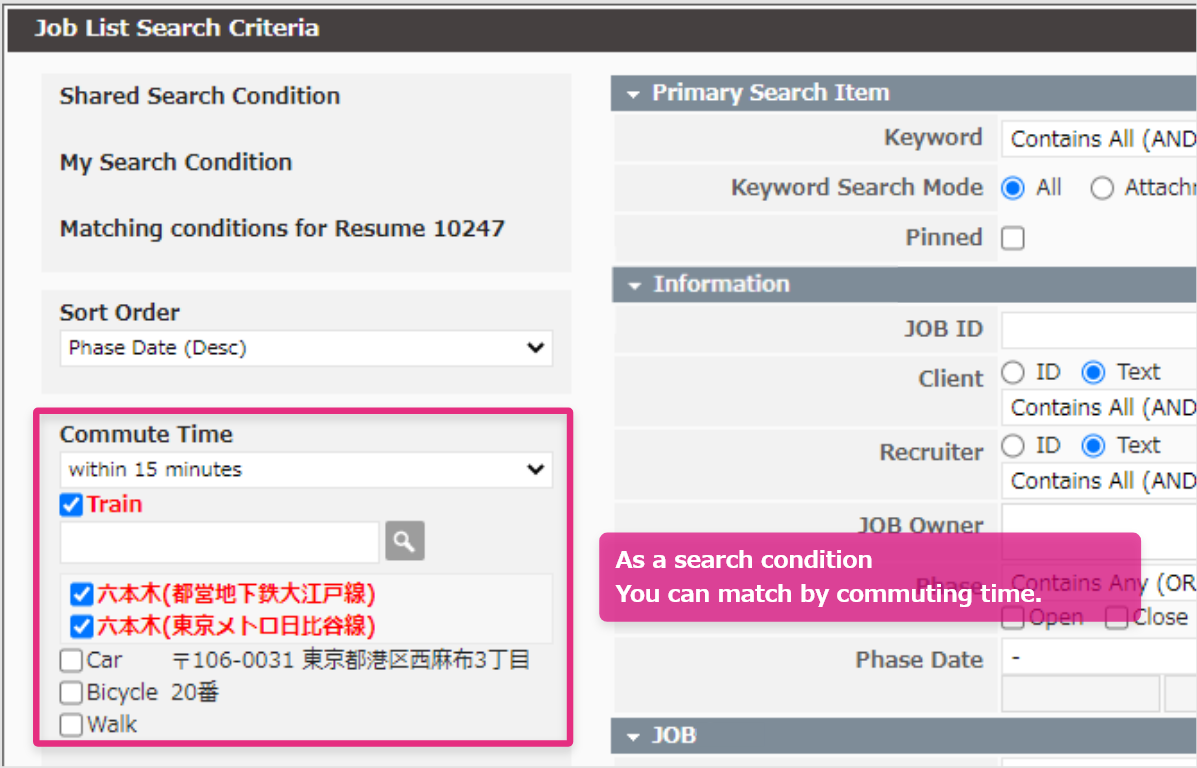 For example, you can look for job seekers who can commute by train within 30 minutes of the job location.
Commuting options include train, car, and walking.
It can also be used as a condition for Auto-Matching.


* Commute time matching is a paid service.
* Application is required to use this service. Click here to apply. (Application page is in Japanese only)
* This version release does not support overseas addresses and railroad information. Addresses and railroad information in Japan are supported.
2 Contract Extensions can now be created with a single click. (Function for Staffing Agencies)


For example, when creating an extended contract from data for a contract period of June 1 to August 31 (3 months),
clicking the [+] button will create contract data from September 1 to November 30 (3 months).


At the same time, the phases of the original and extended contract data can be automatically updated.
For example, the phase of the original contract data can be created as "Extend Contract" and the phase of the extended contract data as "Ongoing".
3 On the list screen, data for which the detail screen has been opened are now colored.

This will allow you to determine if the data has been viewed or not.



The data whose detail screen is opened is colored. The color disappears when you change the search criteria.


For data whose detail screen has been opened in the past ID or names are colored.


The same applies to the Matching result screen.
【Feature Updates】


Added [Next] and [Previous] buttons at the top of the detail screen. This makes it easy to switch next/previous data on the detail screen.