To check details one by one, click the title of each record on the list view, the detailed screen is displayed on the right side of the screen.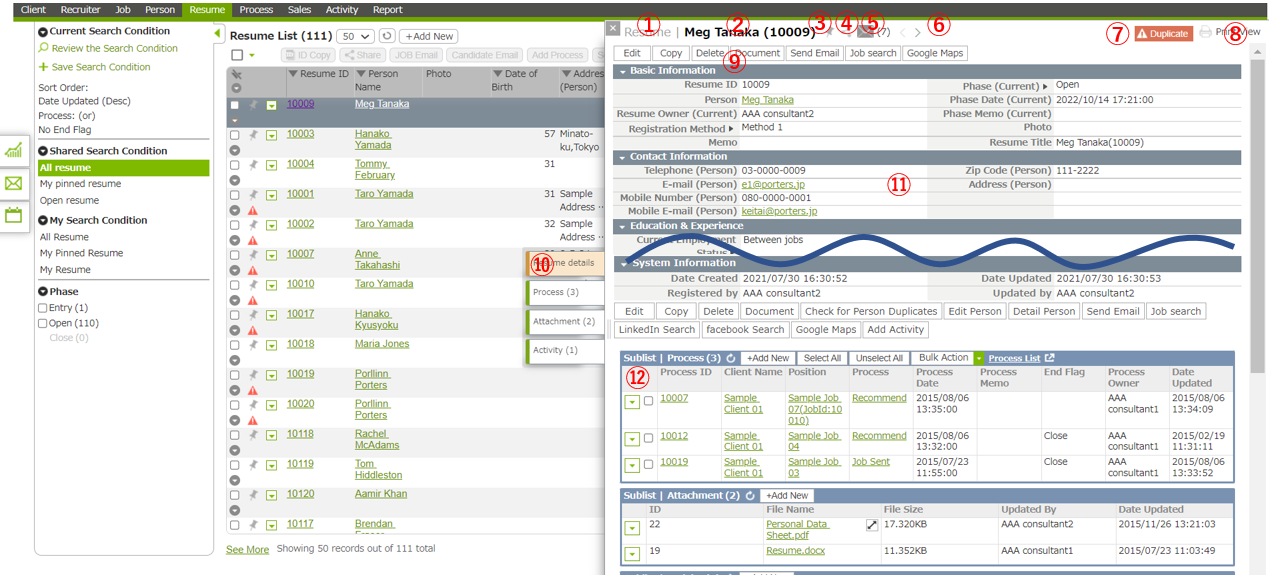 ① Display of the resource name
It shows the resource data for the record currently in display.


② Title & ID display
The title and ID of the record being displayed are displayed in the form of "Title (ID)".
In the case of Candidate, since ID is included also in the candidate title, the title seems to have 2 IDs displayed.


③ Pin function
The clip function can be used to pin data on the list view of Client, JOB, Candidate, Process and Activity only.
If you pin some data, you can search for the pinned data from the search screen.
Pinned items are operated per user and cannot be shared.


④Share function
By clicking on the "Share" button, you can share the shared link by copying or emailing it.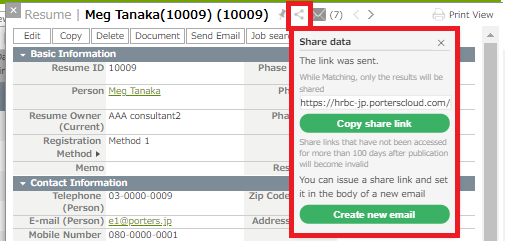 ⑤ Mail icon
This icon opens the mail box of the currently opened candidate data or Recruiter data and the sent mail history can be checked here.
For details about the mail box, please refer to Check mail history


⑥ [Next] and [Previous]
On the detail screen, you can switch to the next/previous data.

⑦ Duplicate function
This function is displayed on Personal Data and Candidate Screens only.
For details on how to process duplicate check, please refer to Duplicate Check


⑧ Print View
This is used when printing the list view screen.
For detailed print settings, please check the setting for each browser.


⑨ Action Menu
This menus can be used for the data that is currently being displayed.


⑩ Sticky Notes tabs
Even without scrolling down the sublist screen, you can directly jump to the target data by clicking the relevant tab.
The number in parentheses next to the name of each tab shows a count of each piece of data.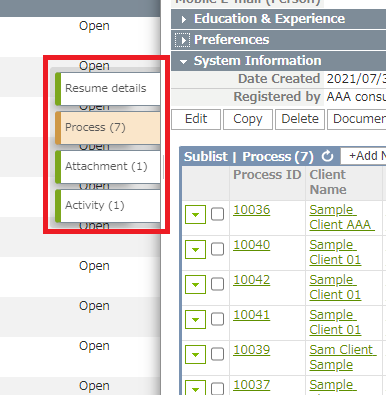 ⑪Detail screen
This shows detailed information of the selected record.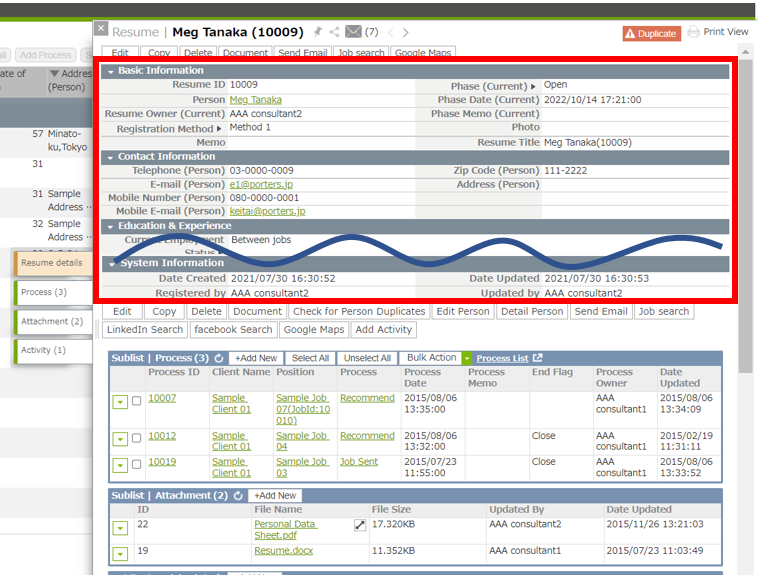 ⑫Sublist
This shows the information related to the selected record and is displayed as the sublist of the information.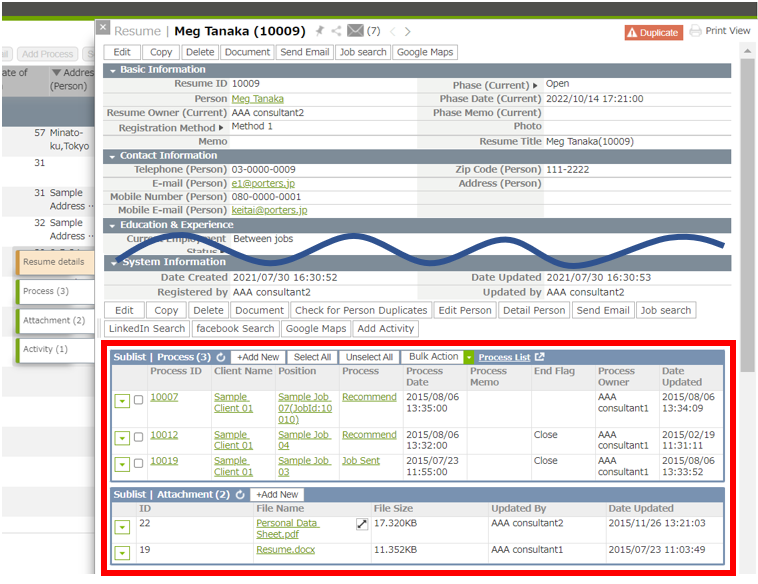 The selection process of JOB or Candidate displayed in the sublist is displayed in the following format:
1. Data whose end flag is checked appears at the very bottom of the list
2. The process with the most advanced stage and with no end flag is displayed at the very top of the lost
3. If the process stage is the same, the process with the latest date is displayed first.
If you place the cursor on the title sublist, you can adjust the width of the items displayed.
The adjusted width is saved on the browser, and if you open HRBC on the same browser, the previously set width will be reflected.
Settings are saved for each browser, so if you adjust the item width in Google Chrome, for example, it will not be reflected in Internet Explorer.