If you want to check or change your user information, click the user name and select 'User Info'.

The User Edit window will open. Confirm or edit the details as necessary then click 'Save'.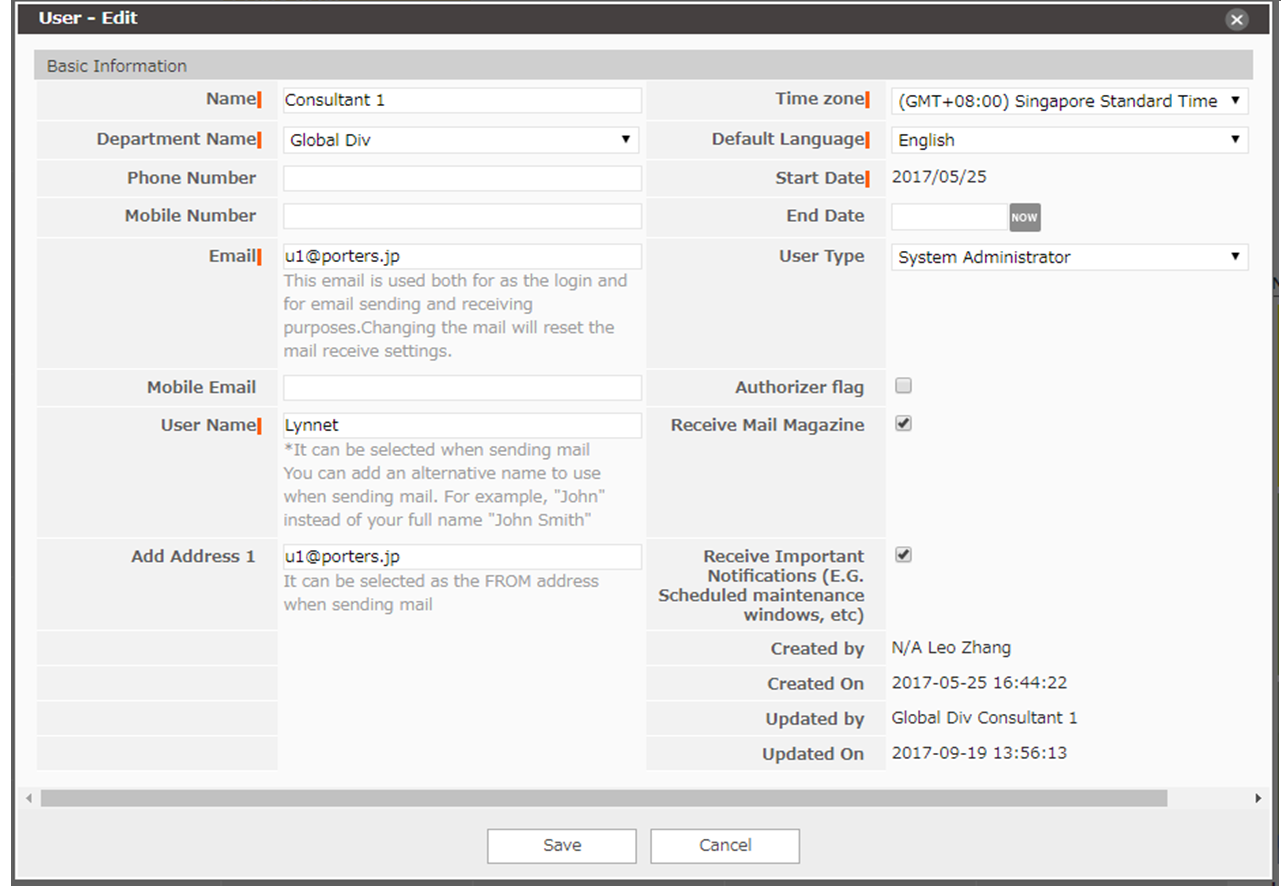 Item name
Required
Details
Template to be Reflected
Name
●
Please enter the full name of the user's full name.
A space can be entered between names.
PDF, Email
Department Name
●
Select your department name.
If there is no corresponding department, please ask the in-house system administrator to create a new department name.
PDF, Email

Phone Number

Please enter the phone number of your company or department.
Email

Mobile Number

If you have a mobile phone please enter the phone number.
Email
Email
●

Please enter the user's email address.

This address is the same one used to log in to Porters, send and receive Porters emails. Already registered IDs including those that have already been closed can not be registered again. In case you change this email address, it is necessary to perform the Porters email settings again.

Email

Mobile Email

If you have a mobile phone please enter the email address here.
Email
User Name
●
The name you enter here can be used in email templates. For example, it can be used as
「This is Smith from Company XX.」
Email

Add Address 1

This email is registered if you wish to send emails from Porters using an email other than the one that is used to log into Porters.
The setting must be done by the System Administrator.
Time zone
●
Based on GMT (World Standard Time) zone, select the time display on the Porters date type field.
If there is no corresponding choice, please select the time zone with the same time difference from GMT.
Default Language
●
You can choose between Japanese and English.
When you switch languages, the display language of corresponding parts such as global menus and item names will change.
However, entered data will be displayed as entered.
Start Date
●
Usage start date set by system administrator when a user ID is added.

End Date

Enter the date you wish to close the account of the user.
You can input a future date but you can not input a past date.
If the End Date is a future date, the slot can be left blank and when it is saved, the user can continue using the account after the previously set date.
User Type
Choose either System Administrator or Standard User.
A System Administrator can change a Standard User to a System Administrator User.
Privileges granted to system administrators only: access to "Settings" menus, configuration/editing of shared email templates, and password resetting from the login screen.
※This settings differ from the security access settings.
※When changing a System Administrator User to a Standard User, be sure that there is another System Administrator within your company. If all the users are Standard Users, you will not be able to access applications and settings menus.

Authorizer flag
This function is not implemented anywhere in Porters and therefore unnecessary for now.
Receive Mail Magazine
Sets whether to receive e-mail magazines sent from Porters.

Receive Important Notifications (E.G. Scheduled maintenance windows, etc)

Set whether to receive notification e-mails sent from Porters.
Maintenance information, system error or other important information will be sent
Created by

The person that created the user ID.

Created On
The date the ID was created.

Updated by

The user that last updated information of this account.

Updated on

The date when updates were made to this account.